Sooo.. today was lots of fun!
mum and I met up in the city so I could buy dad a birthday present, as his birthday is this thursday! he likes things that are slightly different and unusual and everyone had already got him magazines, clothes and book tokens... so I was left with FOOD and ALCOHOL! yay!
we went to David Jones food hall and looked at all the exciting imported goods. Even if you never buy anything there, its really fun to go and look at all the international foods that are hard to find elsewhere. I got him some jam [raspberry and cashew nut flavour!] and some picadilly [which is like random vegetables that have been pickled in a kind of preserve/chutney type thing I can't explain!] which my dad LOVES. Then we went to the alcohol section and I bought him some imported beers which had cool sounding names or were made out of weird stuff. I got him hobgoblin, old badger and a chinese one that has rice extract in it. He likes trying new ones so I thought he might enjoy those. After we bought that, mum and I wanted to get coffee and so we went to dymocks bookstore which has a balcony around the top where there is a restaurant. You can look down on other people and see them shopping for books. We got hot chocolate and were astounded at the number of people wearing green, which neither of us ever thought of as being a popular colour!
After that we indulged in some shopping and window shopping, I got black liquid eyeliner, some stationery [ary?] some undies to personalize! and a very cool bag that I though I could use for uni. Mum bought a bag too, as well as a jumper, so all in all we enjoyed ourselves.
After I got back I went out for dinner to a thai place in randwick with some people from highschool, it was so nice seeing them all again, I really enjoyed it. After dinner we had desert in a little cafe, which was awesome, I can't wait to go again. Tomorrow I really have to do some work for uni, the holidays are almost up and I haven't done any work! and the rest of them is SO busy! thur and fri I'm working, and thur is dad's birthday. Saturday I'm working then going out [I'm more than tripple booked now!] and sunday I will probably feel tired. Plus monday I got asked to work and there was no way I was saying no: it's holiday pay!
anyway, here is a picture of my new bag.. its see thru, and the spots are blue and pink.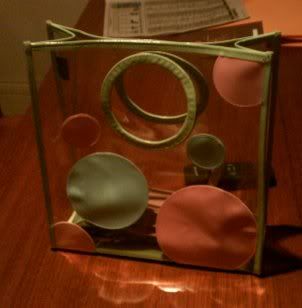 3 comments
3 Comments:
Good design!
[url=http://jeryuirk.com/irew/huoy.html]My homepage[/url] | [url=http://quefqvcs.com/quaa/eggy.html]Cool site[/url]
Nice site!
My homepage | Please visit
Good design!
http://jeryuirk.com/irew/huoy.html | http://dzqhdkzf.com/xdtq/fuaa.html