Last night was so much fun! we went to a salsa club in the rocks called Vivaz. Some girls from high school were there and they brought their sisters too, so it was heaps of fun. Even Luis from work came! we drank sangria and danced til 1:30. I bought one of those photos that proffessional photographers take sometimes in clubs and restaurants, but I gave it to Jasmine to look after.
Then Matt said he was in the city so I met up with him for coffee at City Extra. The coffee was fairly reasonable and the view was spectacular. After that we got a taxi to where the car was parked and Matt drove me home, which was nice of him. Today the weather is gorgeous so I'm just sitting in my pyjamas, feeling lucky to be alive.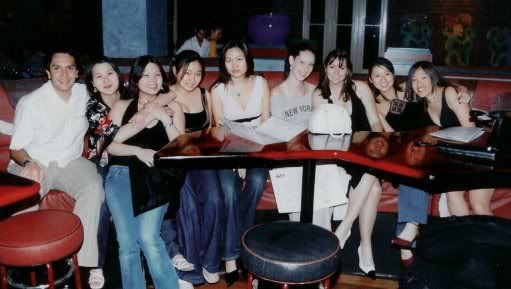 Anyway, Jasmine's Dad brought the photo over! so..
From Left to Right...
Flo's uni friend Diego
Florence
Gemma
Adeline
Adeline's sister
Jasmine
Me
Gemma's sister
Terri
I know all the girls from school, and they brought their sisters, who were all really nice! [I liked everyone I met!]
0 comments
0 Comments: