Hey guys! yesterday was just so unbelievably fascinating.. I decided to 'take the day off' from studying and instead... colour coordinated my wardrobe! I learnt so many valuable things
- I have very few pink tshirts or shirts: Most of my tshirts are in fact, blue
- Most of my underwear, I had fondly imagined to be pink. A good percentage is however purple. I dont even know where it came from!
- furthermore, I have much LESS underwear than I had imagined, therefore buying more is rationalized
As well as that, mum and I went to buy me a CD storage unit because my old tower one was really unstable and fell over on a regular basis, especially if I was taking something out or putting it back in, something I had previously thought was one of the primary uses for a CD storage unit. HOWEVER!
We found a new one and it is very cool... I even found a picture for you all!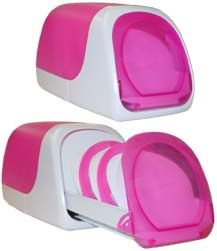 yes.. I got a pink one of course! Anyway, now I have to go up to Randwick to meet Jasmine, get coffee and finalize our holiday payment! so excited, January will see me, my sister, her friend Nancy and Jasmine setting off on a weeks holiday at the GoldCoast and an island in the whitsundays. We're all really looking forward to it.
Anyway, I need to get changed out of my pjs' so can be seen out in public.. What do you think of my fantabulous, techmalogicalated CD storage unit?
0 comments
0 Comments: