Hey guys... I forgot to say what happened on friday night! It was really nice, we went to a Thai restaurant in coogee. The waiter was nice, but also one of those ones that randomly stands at your table til everyone wishes he'd go away.
He did, however, suggest that for desert, instead of individual icecreams, he bring us a huge bowl and 4 spoons. Celia got presents from Janna and Marija, but I din giver her mine until sunday.
After dinner we went to Cushion Bar and got cocktails, which we were all impressed with. I got a Bellini, which is champagne mixed with peach schnapps or fresh peach juice, depending on where you go, as well as a couple of fruity ones. We grabbed coffee and then walked home up the hill, which is quite a feat when you're very tipsy and wearing stillettos.
Today I studied for a couple of hours then got mum to test me, and bought a bikini. I found a picture that is similar but not exactly the same as what I bought. When I was looking, there certainly were some extremely SKANKY bikinis to be found online.
Mine is like this one...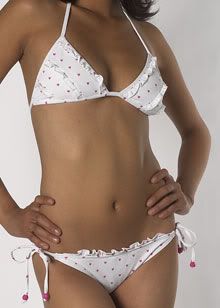 except that it doesn't have frills ON the triangle cups, only around the edges. Plus mine is floral, not with hearts, and mine doesn't have beads on the tie sides.
3 comments
3 Comments:
Good design!
[url=http://wqsslvmy.com/gaac/zkrc.html]My homepage[/url] | [url=http://theeygjv.com/xizb/roin.html]Cool site[/url]
Thank you!
My homepage | Please visit
Thank you!
http://wqsslvmy.com/gaac/zkrc.html | http://gqlzajno.com/jkwn/kdhi.html