Hey guys! last night we went out for dinner at Sz's restaurant! (whenever I say that it makes it sound like he owns it or something, but I still always phrase it like that!) He got to be our waiter and we had dinner and after coffee and desert he came and joined us at our table because he finished work. So then, he walked with us to our car, and laughed because I'd taken everyone on a round the world trip when we were really much closer to the restaurant than we thought. But I didn't care because we went on a scenic walk past the river and it was ROMANTIC so there!
Then today, I went and got my hair cut. I even took before and after photos, but they're on my old fashioned, non digital camera so you'll have to wait to see them.
Then mum and I had coffee and bought some of the new Aloe Vera Water: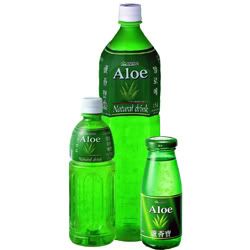 I was expecting to totally hate it, having heard absolutely nothing about it, but I actually really enjoyed it: I don't know about the bits in it, I might strain it before I take it out with me next time, but it tastes very sweet and yummy. I'd definately buy it again! its refreshing too!
...
Ok, I'm a convert.
0 comments
0 Comments: