Let it be known that, once a month, I turn into a clingy, overly emotional wreck who needs chocolate, affection or caramel lattes in frighteningly large amounts. This period sees me cry watching movies (such as babe) the news, happy endings, well really you get the picture.
SO! today after work, my sister and I ventured to Max Brenner's Chocolate Bar, in order to satisfy a deep, psychological need,
need
you understand... for chocolate. Which, after some time, was satisfied. On the return journey, we decided to hire movie. She chose Suddenly 30 and I chose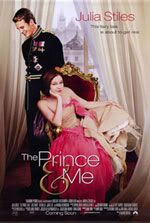 The Prince and Me
and
Singin' in the rain
Both of Which I found to be suitably girly for my purposes. *Sigh* So I spent the afternoon watching Julia Styles and Luke Mably get it on. Nice.
Tuesday night I had my own snuggle-fest with Sz: we went to the Comedy store and saw Tom Rhodes and a heap of funny, talented people there for open mic night. Which was also nice.
There's nothing like chick flicks, chocolate and some serious snuggle action to make me feel really, really (no, really) girly. (And, not to mention, romantic!)
3 comments
3 Comments:
Good design!
[url=http://ehpjjmuy.com/pjoh/atvv.html]My homepage[/url] | [url=http://oxmvikeq.com/bsww/rwti.html]Cool site[/url]
Nice site!
My homepage | Please visit
Great work!
http://ehpjjmuy.com/pjoh/atvv.html | http://rbgtexdj.com/gqtv/nyrp.html