Allo again all..
Today I bought the new Nescafe Cappuccino product: it comes in a box with a chocolate shaker, and 10 sachets of cappuccino mix.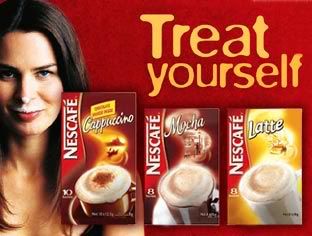 Now, I'm a coffee lover and usually a purist, I realise that nothing beats REAL coffee, in fact newly ground is my favourite, BUT.. when I was on my trip to the stix, there WAS NO COFFEE.
Let's just make sure you get the full impact...
NO COFFEE FOR 7 WHOLE EXCRUTIATING DAYS
Yes. Thats right. It was horror, a living hell if not for that reason alone. SO! I had already tried their caramel latte sachets. They're great late at night when you want to push through til dawn, although I wouldn't say in any way that they resemble an actual caramel latte per se.
Anyway, I'd seen the cappuccino mix before, and it comes with a cute little chocolate shaker, so I thought why not, I'll get it. And I did. It's definately better than the caramel latte - less sweet, and I recommend it to those of you who otherwise might have to go without coffee for 7 WHOLE EXCRUTIATING DAYS like I did.
And now.. did I ever tell you for my love of songs from the mid-90's? Well, I have a love of songs from the mid 90's! Corona, Ace of Base, Presidents of the United States, The Jackson 5, back when the big Mickey J was still black, and one of the CUTEST and most talented kids the world has ever seen bar that kid from leave it to beaver.. (who incidentally reminds me of Paul McCartney...) Ok, alright, so the Jackson 5 aren't from the 90's! but still! the mid 90's were cool!
Love.
BJ
3 comments
3 Comments:
Good design!
[url=http://fkecrgun.com/gzwq/gwys.html]My homepage[/url] | [url=http://pqueccdv.com/rngm/ihxy.html]Cool site[/url]
Well done!
My homepage | Please visit
Thank you!
http://fkecrgun.com/gzwq/gwys.html | http://eekijllr.com/hkmj/jpqe.html