geez, I really haven't posted in a while, but honestly, nothing that exciting has really happened. I'd sum the last couple of days up as:
1. Sz has had tonsilitis so it will be 2 whole weeks since I last saw him on tuesday, which is the tentative date we have set for seeing each other.
2. My sister has her own car, and also the SPARE keys to the car I drive, which is my parents. They were unable to cut me a set of keys because of the type of car we have, so I didn't have any of my own. How excitement, my sister FOUND the spare keys, which means now that I have my own set. (Don't ask me why it took my sister so long to give me the set of keys to the car she doesn't drive.)
3. I have got no further in the gathering of sz's v. day present. I have several unfinished items however I DID get his card which is way cool and I've written heaps on it.
My favourite way to write a card is around and around so you cover the entire space and the person has to turn the card to read what you've said. Not only is it entertaining, its also attractive!
4. I went to my sister's BBQ and found out to our delight that one of my sister's friends has a SMART CAR! which has to be the cutest car on the planet. For those of you unfamiliar with this car, it can park in a space which is the width of the front of an ordinary car. It fits 2 people and it is TOTALLY ADORABLE. I'm a girl. I love things in miniature. Which is not to say I don't LOVE my V6 Ford. The car I drive is a big lumbering heavy beast, but I love it. Nevertheless, smartcars rock my socks. They are DAMN CUTE. Just like I'm drawn to babies and puppies and teeny tiny bonds 0000 singlets for new borns... I'm drawn to that car. Here's a pic: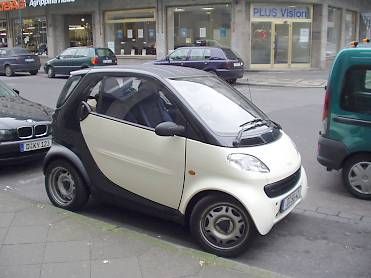 Honestly, the women of my family have fallen in love with it. When I told my mum you could get them second hand for $18 000, I could see her just melt. We both want one really badly. Maybe if I can save up the extra, I could use it to add to the money my parents will give me for my graduation car. (that is to say if I ever graduate and my parents don't change their minds...) In fact, seeing as how its at LEAST 3 years from now, they might be even less! Oh, I so badly want one. They're SO adorable.
(Yes, Sz, ALMOST as adorable as you. I knew you'd need me to reassure you on that point! LOL)
5. Tonight I went out with Celia and Jasmine for dinner at Coogee. There is something about that place that just relaxes even the most uptight of people (like me) which is really nice.
Anyway, that really is about all, and I probably wont have much to say for a while, I'm not working or doing anything exciting for a while!
0 comments
0 Comments: