Ok, I admit, I did indeed go out into the rain last night (SPECIFICALLY, I might add) to hire the princess diaries from the video store.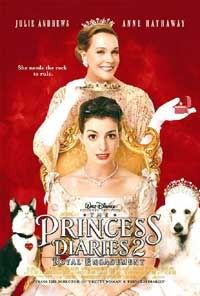 And my reviewage is as follows!
Alrighty, well as you all may know, (or totally not, which may be a good thing) my favourite part of the first Princess Diaries (PD) movie, was the makeover scene. That scene so totally rocked man. So anyway, the second one had a lot to live up to. It did have better clothing (most of the first movie she was wearing a uniform if I recall correctly..LOL) and a SUPER cute romance/kissing scene, but there were several things I didn't like. Here is my breakdown:
PRO: pink clothing, romantic/kissing scenes, sexy shoes (no seriously, watch out for her shoes) and of course, the usual romatic girly stuff: jewels, castles, ballgowns and tiaras *sigh*
CON: the bit where Julie Andrews sings. I skipped it. Also, it seems really fewlish that Mia gets excited about her wardrobe and stuff like that. If she's been living like a princess for the last 5 years, I can't imagine that this stuff would surprise her.
OVERALL STAR RATING (OUT OF 5):
Even though it was a bit unrealistic, it was exactly the type of romantic movie I felt like - an obvious plotline, but still totally enjoyable, especially if you LOVED the first one like I did!
Also, Sz and I went ice skating today, it was so much fun! and on a less exciting and fascinating note, I also bought my text books for uni. Hurrah!
Love
BJ
3 comments
3 Comments:
Well done!
[url=http://mrksaaji.com/naje/jixf.html]My homepage[/url] | [url=http://kbneaieb.com/ncrz/lbiq.html]Cool site[/url]
Great work!
My homepage | Please visit
Good design!
http://mrksaaji.com/naje/jixf.html | http://yohuqtvg.com/sscv/zpce.html