Phew, the last couple of days have been pretty busy. On Wednesday night Celia, Theo, Jasmine Sz and I went to dinner at hurricanes restaurant Bondi Junction.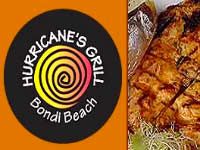 Wow! the steak! the ribs! I'm embarrassed to say I've never eaten a rib before. And these ribs were sooo tasty. I had a massive steak which was also perfect.
I give it 4 stars because we had to wait about half an hour for a table. Otherwise, spot on! Celia and I tried kamikaze shots, which they made with cointreau, cranberry juice, lime and a shot of vodka (theirs had raspberries frozen into it, so it was uber yummy). They were delicious, and PINK! We went to the french riviera for ice cream and then everyone went home.
On thursday night we had Aimee's pink themed party at Mona Vale Pub which was so cool, I got some photos but I don't know if they'll have turned out too well. We went back to Aimee's around 12. Everyone chose a room and grabbed a matress.
Aimee and Alex slept in Aimee's double.
Doug slept in his car (?!)
Sarah and Derek slept in the study
and (most importantly to me!)
Sz and I slept in the loungeroom. Even though the sun came through the windows the next day, I still think we had the best floor to sleep on since there was a rug under our matress! so there!
Everyone left Aimee's at around 11:30 and Sz and I were so hungry that once we got to the city, we went to Pancakes on the rocks for brunch. Afterwards, Sz dropped me off near circular quay where I got the bus home. He kindly agreed to keep some of my things (sleeping bag, pillow etc) for me until such a time as I see him next. I'm still dreaming of those ribs from hurricanes.
Love
BJ
3 comments
3 Comments:
Good design!
[url=http://xkjdpdrp.com/nbkf/xang.html]My homepage[/url] | [url=http://lanzruez.com/syup/ilkz.html]Cool site[/url]
Nice site!
My homepage | Please visit
Great work!
http://xkjdpdrp.com/nbkf/xang.html | http://tamlgccw.com/ihqr/nyry.html