Today Sz and I agreed to meet at the Mac Centre for lunch and general
seeing each other
time. Coming from opposite directions, we were both driving and parked in the car park at the shopping centre.
I met him and we had mochaberry coffee at borders and tried to persuade each other not to buy useless things, without much success. He wandered into sanity, I wandered into bras and things, and THAT was the end of any hope for either of us.
But there were sooo many bargains! I bought a bra that was $44.95 down to $9.95! and the best cleavage ever!
I also bought some new shampoo and conditioner: De Lorenzo so we'll see how that goes too: I got it in a set with volumising spray and it comes in a cool blue bag!
Then we had lunch and went and looked at the cute lop-eared bunnies, long furred, fuzzy kittens and scorpions in the pet shop, and went to my FAVOURITE EVER STORE!!!
thats right! a storage shop! I LOVE storage shops... they're so full of promise and tidiness... so addictive somehow. So I bought a big pink storage box with a aluminium name plate space on the front: I thought I could use it to store uni notes on my desk.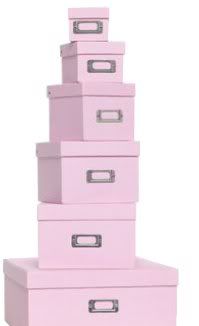 Mine is the same size as the very bottom one which is cut off. It's quite deep. What with being loaded down with this, several books, several cds (Sz), hair stuff and the bra, we decided to toss it all into the car and walk across to uni to sit on the grass. Sz said he'd walk with me to my car.. and GUESS WHAT
we were ONE CAR SPACE APART! and we hadn't noticed when we got out of our cars that morning! it was very odd.(We think our cars might like each other! LOL)
Then we walked over to the uni, sat on the grass and talked and glared into the sun and generally relaxed. It was definately my favourite part of the day, just comfortable and stuff.
But Sz had to go to work so we walked back to our cars and drove home. Tomorrow I'm working and tomorrow night I'm seeing Jasmine. I thought maybe I could drive over to Celia's and we could drop off my extremely late christmas gift to her, then go for dinner or something. Celia can't come because its the weekend before Valentines Day, which is the biggest day of the year for florists, obviously! But I want her to have the gift I got her, it might make the weekend a little less stressful or uncomfortable.
Love.
BJ
0 comments
0 Comments: