Hey everyone!
The last couple of days has been pretty full on! yesterday night I went to a market reseach group discussion. The topic was 'what is important to the youth of today?' apparently, we trust google and the simpsons, but we don't trust channel 10 or the banks.
Afterwards we had dinner at pancakes on the rocks which was nice. It's been so wet reccently, I just haven't known what to do: it's freezing cold, so I wear jeans, but they're all too long and they end up wet to my knees. I bought an umbrella today! I'm so excited, I haven't owned an umbrella since I was about 13! it's a cool one: its see thru. It looks something like this: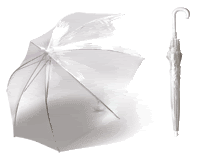 My parents are away tonight because it's their anniversary! so my sister and I decided to go to the movies and get takeaway. We saw "Bride and Prejudice" and I give it 3 stars!
Mainly because they'd changed the story line a little bit, which made some parts of the plot not make sense. However, it was really enjoyable, and the 'Elizabeth' character, played by Aishwarya Rei is a pleasure to watch because she's just soooo beautiful. The whole time I was like, my hair doesn't shine like that! Here's a picture: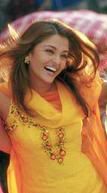 We got back and had takeaway italian. And the only other thing I'll mention is that I hope it rains tomorrow so I can use my new umbrella!!
Love.
BJ
0 comments
0 Comments: