Happy easter!
Today after the general opening of easter goods (my sister got chocolate and I got the replacement razor blades I asked for in place of chocolate, very festive!) mum organised an egg hunt, which took an embarrassing amount of time to complete, and then mum and I went for a walk down to Coogee beach.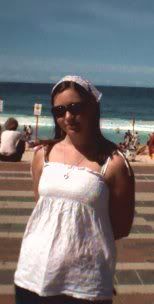 I'm trying to organise breakfast at Coogee tomorrow: my friends are going to a Movie Marathon, which finishes tomorrow at around 7, so I'm trying to convince them to go to breakfast with me.
Do you know, I still think of the Sarach McLachlan concert, and I realised that Sz has given me a memory. How much of a good present is that? I get to keep it forever! (I'm still thinking about getting my hair cut like her!)
Anyway, I have uni things to do, my bed to make, bedroom to tidy, Szki to get in touch with, etc etc etc.
Love
BJ
3 comments
3 Comments:
Good design!
[url=http://dhqzhnbm.com/uibz/kicm.html]My homepage[/url] | [url=http://xxuulsyy.com/qspq/livb.html]Cool site[/url]
Well done!
My homepage | Please visit
Well done!
http://dhqzhnbm.com/uibz/kicm.html | http://eamjzewt.com/nhcl/tboi.html