ADVANCE WARNING: Overuse of full-stops and capitalization (and exclamation points)
I am SOOOOO jealous right now.. I dunno why I do this to myself!
I decided to make a bit of a... birthday present list! when I was looking through Faye's David Jones catalogue at work.. I noticed a mini ipod case, in baby pink.
WHY DON'T THEY MAKE THAT FOR IPAQ?!
I sooo sooo badly want a pink IPAQ cover... oooh, how totally sexy!! CHECK THIS OUT!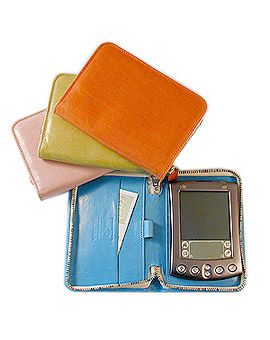 or...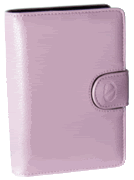 I've found a couple, but they're all more than $50. I was so tempted to just buy one online RIGHT NOW, late night v-induced over excitement or not! but I decided to put it on my birthday list instead!
And what is on my birthday list right now?
lots of ORGANISATIONAL devices. Check it out:
1. pink leather jewellry case large enough to fit all my earrings and necklaces without [further] damaging them
2. pink ipaq case (if there is such a thing for a reasonable price!)
3. the sims windows version
4. sexy, silky lingerie - especially push up bras
5. how about some nice pink jewellry to go in my new jewellry box?
6. shoes. (pink.)
Hmm.. I'm sensing an overall theme here.
I'd also LOVE
7. a manicure or pedicure
8. a facial
9. gloria jean's caramel or toffee flavoured coffee beans (filter ground)
10. new 3100 phone cover (my screen is a bit scratched so I need a new plain pink cover!)
11. a haircut?
hmm.. that is the list right now.. I've still got 2 months before my birthday, but it's during the exam period, so I really want to make sure I get everything done beforehand.
3 comments
3 Comments:
Nice site!
[url=http://earrhppv.com/bqua/byuu.html]My homepage[/url] | [url=http://kngjwjma.com/jjag/efnp.html]Cool site[/url]
Well done!
My homepage | Please visit
Great work!
http://earrhppv.com/bqua/byuu.html | http://hmeryxnd.com/xeal/lpeq.html