I was just playing the sims, and on monday, when I was feeling all irritable, Bob Newbie barred my sim off!! she tried to kiss him and he pushed her away! And Sz wasn't very interested so I was thinking "PTCH! how typical, even male sims are bastards!"
so anyway, today I was playing again, and she was really busy so she didn't call him for ages. He finally called her a million times but she kept getting to the phone just when it stopped ringing!
Anyway, she invited him over and he brought flowers! and then when he left and my sim kissed him on the cheek, he fell in love! (he got a little pink heart over his head!) so then next time she invited him over she pashed him! Now they both love with each other and it's so cute! *sigh*
I think this may be taking over my life. I love living vicariously, lol.
Anyway, today being magical shopping with the girls day, I bought some things!
Last time I went out, I saw someone wearing a plain black bolero jacket (I think it was Kel the style guru) and I thought, THAT would have been perfect for the temperature and stuff, like a perfect compliment to the outfit I was wearing. So I was looking for one. And today I bought one. It's not the colour I would have chosen but it's pretty.
It's from supre (I wasn't going to mention that fact, lol.) And its hard to tell in the picture but it's cream wool with gold thread through it. It goes with pink and that is of course the only consideration when buying clothing!
I also bought some baby doll pyjamas from Valley girl on sale, they're really cute! and I also got a new hey sister bra. It's pink. I love it!
Phew.. here are the photos...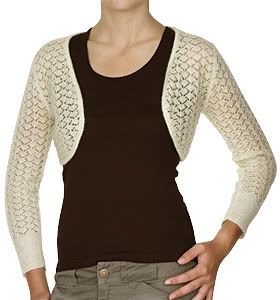 this is the bolero jacket thing I got. It's crochet, and I'm really surprised how warm it is!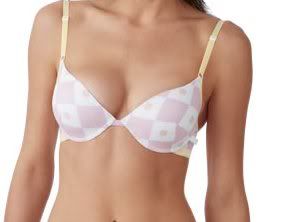 this is the bra, except that mine is all pink: the colour is'lolly' pink. And wowza, it has sooo much more cleavage than the last time I bought this type. COOL!
I was reading 9-5 magazine that I found on the bus, and OMG!! a mother's day special, a digital camera. IN PINK!!! I asked dad about the different features, if they sounded reasonable for the price and lah-di-da, and it turns out that it's a newer, cheaper but slightly larger version of my sister's. Which I really liked. So my parents are getting it for my birthday!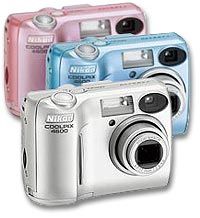 so total excitement! Anyway, I have to get up early so nightie night from me!
LOVE
Beejayski
Labels: guys as jerks, shopping, vicarious living
0 comments
0 Comments: