Today was out of context or schedule or the ordinary or whateverness! instead of doing not much, getting my bus ticket and sleeping in the afternoon, this morning I got up early and said goodbye to Szki (he stayed over)
did some scrapbooking (visit
scrapbook.com
if you don't know what it is!) - I did a page about the year 10 ski trip.
THEN I got my haircut!!!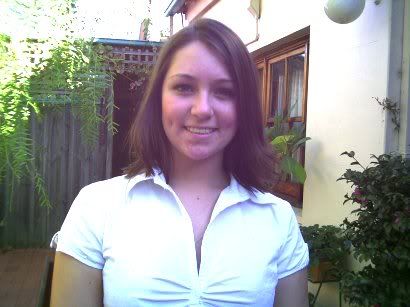 here is the photo... just look at the hair, not my face, mooha!
anyway, then I drove to uni, met Sz, did readings and work and randomness (he said he liked the hair!)
then went to a hieroglyphs revison lecture for the first time! which was very... helpful but confusing at the same time! and then after that Sz drove me back to my car since it was dark and 8 o'clock at night and I was scared.
And then I drove home with the heater on full blast to keep my feet warm. Tomorrow I'm working for Park St fitness first, and I hope everything goes ok. I also have a hieroglyphs test! EEP!
anyway, night all!
xxxx
Rosie
0 comments
0 Comments: