Allo all! it's my birthday today! I had a really lovely day!
I was dragged out of bed at around 7:30 by my parents and sister so I could open my cards before they went to work. Then Sz came over at 9:00 and I opened my present from him: which was absolutely beautiful..
He gave me cymbidium orchids (my absolute favourite flower!)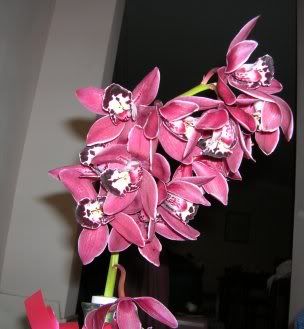 Aren't they gorgeous?!
He also got me this heart shaped gold pendant: it has an amythyst in the middle and 3 tiny diamonds set into the outter heart.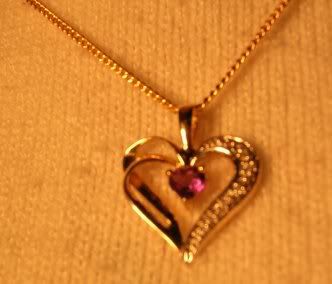 Then we went for breakfast at Coogee Beach!!!
Sz had an omlette, and I had a 'big' breakfast: sausage, hashbrown, scrambled egg, bacon and toast! (also a tomato that I gave to Sz.)
I took a photo of it also, lol: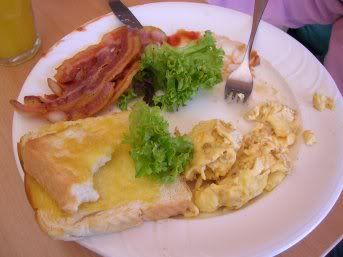 And here is me at breakfast!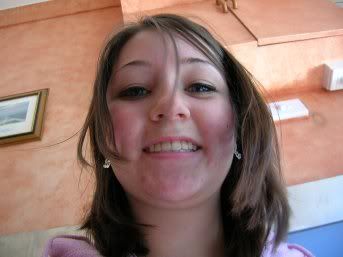 Then we came back and fooled around with the camera and suchlike, I had a really good time. Sz had to leave around lunchtime so I waved him goodbye and went in to have a nap.
Then this afternoon mum and I went to teascapes for hot chocolate and pink marshmellows.
I just finished opening my presents this evening after Anna and Dad came home. Here is my annual present list!
FROM Mum & Dad:
+ black lacy antzpants underwear (you can't ever have too many undies)
+ body shop mango bath/shower gel and mango/peach lipgloss
+ a pack of 4 different face masks
+ Fudge hair varnish (when I got my hair cut reccently, the stylist used it in my hair and it looked great, so I thought I'd try it myself at home)
+ the pink digital camera I have been using aaaalllll day!
FROM Anna
+ a pink parker pen! (to replace the one that I lost!)
+ a book voucher (romance or agatha christie. Hard choice!)
FROM Jane (family friend)
a box which had lots of different things in:
+ pink slipper socks with special non-slip pads in the shape of paw prints on the soles
+ pink bonds socks
+
soothe and romance
aromatherapy soap
+ aromatherapy face scrub -
raspberry, oatmeal and apricot kernels
+ a mini stationery set (pink): scissors, stapler and staples
+ 2 packets of lollies (pink!): jols (mixed berry) and extra drops (wild berry)
+ post it notes (pink of course)
And all my cards were pink too! I really enjoyed all my presents, I love getting USEFUL things and pretty things.. can't wait to try everything out! I'm such a baby..
Celia smsed me to say I'm in my THIRD DECADE!!! OMG I feel OLD. (Thanks Celia!)
Lol.
Anyway, we're going to have dinner and cake now so I'll probably post pictures of both of those either later tonight or tomorrow morning.
Thanks everyone who sent me birthday wishes and gave me presents, it was a really lovely birthday
Labels: birthdays, boyfriends, presents
0 comments
0 Comments: