Well, there is good news, and there is bad news.
The good news is Sz and I watched Mr. And Mrs. Smith at Weatheril park. And we both enjoyed their totally HOTTness (so hot they need a double t!)
Wait.. here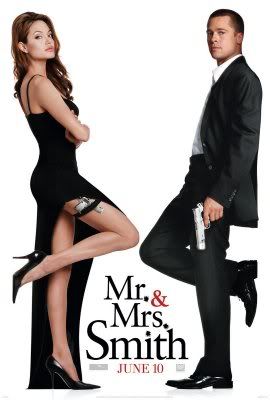 And some features to notice. OMFG, her ass. And him. All of him. Ooh... damn! I have to say, there wasn't really much story line to this movie, but woah! 2 hours of complete utter HOTTness!! wow!
And the bad news is...
I LEFT MY BELOVED PINK PHONE THERE!!! NOOOOO!! and no one handed it in... (well, hell-o! it's Weatheril park! home of the hoop earring and ugg! (lol, actually it was very nice and I did enjoy their shopping centre and all, but I miss my phone. SOB)
anyway, so this week I'm going to have to go shopping for a new one. In the meantime, my sim and handset are barred and I'll get the number transferred when I buy a new phone. SO DON'T TRY TO CALL ME! because I wont get it! lol.
I dunno what type of new phone I should get. Any suggestions?
Anyway, my jury duty has been cancelled! so instead of working friday, saturday, sunday, going to jury duty monday and then work... I've got all of monday DAY free! for phone shopping!(hurrah!)
Anyway, have a wonderful weekend all, and good luck for final examage.
Love Rosie
0 comments
0 Comments: