Alright, alright, I haven't posted since before my party. I've been busy!
Saturday the day of my party, we fully tidied up the house and had lunch at teascapes and collected my balloons with Sz. Then, everyone started arriving and I realised that due to 2 people being unable to come, there would be less people than I originally thought! arg! and because those extra people were each bringing their partner or friend or WHATEVER! there was even less! so to offset my freaking out, I had a few vodka and lemonade. Then my uni girls gave me birthday presents!
Kylie got me some gorgeous earrings, and Sarah got me some chocolate shots (those tiny chocolate bottles of alcohol) and a bracelet with all chunky pink beads in the shape of leaves and flowers and pearls. It's really me. (And incidentally her, LOL!)
Then we had tequila body shots where you hold the lemon wedge in your mouth, and someone else licks the salt, takes the shot and then takes the lemon out of your mouth!
suffice to say after several of these, I became more and more drunk! my parents and sister came home and I asked them the same question several hundred times over (did you enjoy your night out? Did you enjoy your night out?) and then after a D&M in the front room about Brett Whiteley (the artist) and jackson pollack (the artist) - see! we have totally philosophical D&Ms! how good is being able to remember artist names and stuff when you're almost passing out!
Anyway, after that, we all got degenerately more wasted until I removed some of the alcohol from my system (yes, SELF INDUCED) (And how diplomatic am I?) anyway, after than, I had my first RLM which was totally HOTT. (So sex right now as Sarah would say)
Anyway, it was just one of those random parties. I've so never been that drunk before. I had conversations which were SO random, especially with Sz when he went to bed early (can I come and wake you up if I'm horny?)
here are some photos of me with my gorgeous girls!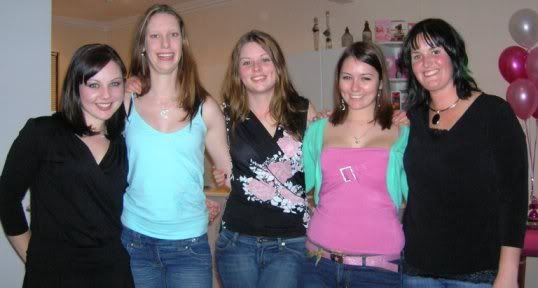 L-R: Sarah, Jasmine, Celia, Me, Kylie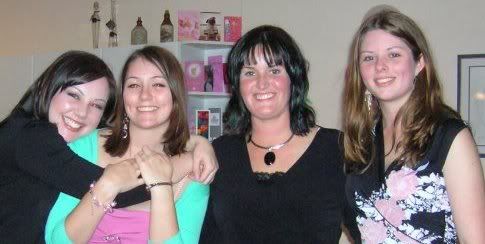 L-R: Sarah, Rosie, Celia, Kylie
Then Sunday I supposedly made everyone breakfast. Really it was mum. But making Sarah a cup of tea was the hardest thing ever. It was like so difficult to remember where I had put down the cup and the sugar and how much milk goes in and stuff.. seriously hard.
Sunday I slept most of the day, went shopping with Anna and Mum, and then Celia Jasmine and I looking really really hungover I might add, met up for dinner, which was really nice and we had a good old bitch session about our various partners and their disapproval over our total drunkeness which was justified but was obviously more annoying for that!
Monday I slept for most of the day again, and worked in the afternoon at Park St. I bought Sz a pressie because today (wed) is our 8 month. Tuesday I wasn't working so Anna and I went shopping and had a nice time, I just bought some nail hardening stuff and some earring backs because I've lost all mine, and Janna's birthday present, and got my photos developed from my digital camera. It's heaps of fun developing them, you put the memory card into a slot in the front of this machine which has heaps of different sized drives for all different types of memory sticks and disks - even CD!
then you use a touch screen to select the photos you want and give the photo people a printed reciept. Anna bought some going out tops and they look really good on her, so it was fun all round. Then Sz came over and gave me some GORGEOUS yellow cymbidium orchids (he knows how much I love them) from Strathfield. He gets the most beautiful flowers.. they are just stunning.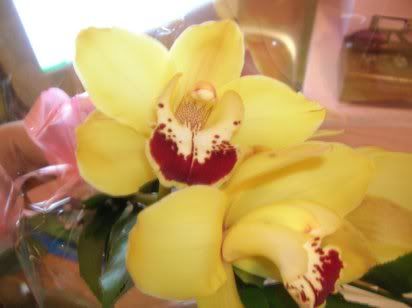 I gave him a white rose, since it's my birth month flower, (standing for the full moon) and also means eternity and harmony and fidelity and good things like that. (Unlike yellow roses which I love but mean suspicion and infidelity and mistrust and bad things like that!)
We went and saw bewitched at the ritz. I was really surprised because even though I LOVE LOVE LOVE the show, and even like Nicole Kidman, I totally couldn't see her as a Samantha type character. And she totally can't do that nose thing, end of discussion.
Anyway, I really enjoyed it! it was funny, romantic, and yet, half the audience were kids or young persons (like 13 years and stuff like that - some kids even had booster seats!) so it could appeal to lots of people!
We had thai afterwards and because Sz had some beer he stayed over. I really like it when he stays over because I don't need a hot waterbottle. He also smells good and keeps my feet warm and talks to me and doesn't mind when I read agatha christie in bed. Plus, unlike a REAL hot water bottle, he totally snuggles back and kisses me too!
Then this morning he drove me to work because he's a sweetie and I risked life and limb leaning into the car window before the lights changed to give him one last kiss. Which was totally worth it.
After work, I met up with Anna and we had lunch together upstairs in Dymocks, and then had coffee in Coffee philosophy, which used to be harris where my mum would take my sister and I when we were little. It was full of really dark wood, heaps of coffee beans, extremely high stools and the aroma of expensive coffee. And we'd get florentines and it holds a lot of memories for both of us.
Then Sarah called me and asked where max brenner was so I came out and showed her and it was good to see her because in the holidays I hardly get to see my gorgeous uni friends. Hmph.
Then Mimi rang me and asked me to come and be her model for her hair styling class which was curling today, so Anna and I picked up her car from in service, drove home and got picked up by Mimi to go to Carlingsford where the class was. It was fun, actually. They used all the different types of curlers there are. Hot rollers, hot sticks (which are those weird bendy things!) curling tongs and a straightener. (you kind of roll the hair into a loop and then clamp it in the straightener for a rock chick mess curl!) Then they sprayed the hell out of it, and took photos of us, and I brought my camera too, and so it was funny seeing before and after. I look really really tired though: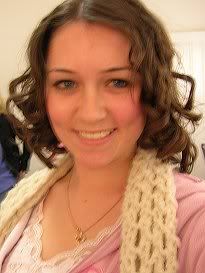 Tomorrow I'm working at 9 am which means leaving mine before 8 to avoid traffic. Ugh. So I'm going to bed now. The last couple of days Sz and I have been in a bit of a huff with each other, so yesterday and today have been so nice and it was good to remember all the reasons why I love him. He's so considerate.. at my party, he brought over the fairy lights I couldn't get ANYWHERE in my area, he helped my dad put them up, and he tidied all the food away for us before he went to bed. What a total sweetie. And he bought me flowers yesterday that are my absolute favourites and drove me to work and OMG going to EXPLODE he's that fucking cute sometimes.
Anyway, I'm done now. God I love him! (last thing, promise!)
night all.
Love
Rosie
x
Labels: boyfriends, drinking, movies, shopping, virginities
3 comments
3 Comments:
Thank you!
[url=http://dlbtdlxz.com/tbks/huhy.html]My homepage[/url] | [url=http://dixyfjde.com/jthu/ylvj.html]Cool site[/url]
Great work!
My homepage | Please visit
Thank you!
http://dlbtdlxz.com/tbks/huhy.html | http://ljwnhbgo.com/dsoq/lujs.html