Yesterday Sz came over and we made lunch together. First we went shopping and then we chopped and fried and came up with... (drum roll)
Tortellini with a cream/mushroom sauce
and..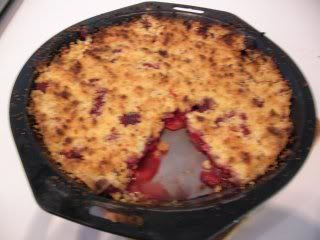 apple and raspberry crumble.
He made the pasta, i made the crumble. It was really really yummmy.... I don't even like mushroom, but it also had garlic, onion and bacon in. So tasty.
The crumble was really yummy too. (And pink.)
After Sz went home I went out for dinner with Janna and Celia to so that we both could give Janna her birthday presents from us. It was a really lovely night, we had dinner at Cellini's and then I drove them to Pancakes on the rocks for desert and then we got takeaway starbucks and chatted until 12:30 in the car. It was heaps of fun, and we really should get together more often.
And then today I worked. Tomorrow I work, and the next day and the next day and I will be thinking very hard about the fact this is pay week during those times! LOL.
Love
Rosie
3 comments
3 Comments:
Great work!
[url=http://rnpljxct.com/eedc/fykv.html]My homepage[/url] | [url=http://rhcildft.com/ceow/yrvk.html]Cool site[/url]
Good design!
My homepage | Please visit
Well done!
http://rnpljxct.com/eedc/fykv.html | http://xtzedxzi.com/kjtn/jewr.html