On friday, I went to look at helium balloon designs for my birthday party, and to pay for the arrangements the assistant and I decided on. They should look really good: 2 sets of 5 balloons each for either end of the table with the food on, in hot pink, pale pink and white pearlised/metallic balloons.
After sorting that out, I called my sister up and we organised to go out. After dinner we got a bus to Bondi, a train to king's cross and went bar hopping, using the 'best bars in sydney' cards that she has.
First we went to Lotus bar which was amazing! you go through this tiny restaurant which is barely bigger than my bedroom and through some open sliding doors into a tiny bar area which is really intimate with really cool decor. The cocktail list is amazing.. over 70 cocktails! the barstaff were so nice too. We decided to stay there for one drink only because we had a few places we wanted to see.
After lotus bar we went to Soho which is supposed to be where Prince Harry went when he visited sydney. I don't think he has that good taste if he enjoyed it. It was dimly lit, smoky, and the decor was down-at-heel. Nice cocktails though.
Then we went to Hugo's and had gourmet pizza which was really nice, hot chocolate, which wasn't, and then we went home. It was a fun night out, and I LOVED lotus.
Today mum and I went shopping first for some fairy lights to decorate the trees at my party next saturday, and then for a top to wear to same. We also got her a passport photo for an ID badge she needs for her new job with the Census people.
We found a gorgeous top for me, but I wont post a picture until my party pics! Just as we were leaving we went into the art supply store because I wanted to get some perspex to try to make an earring storage box thing, but they didn't have any. Instead we bought some plastic mesh stuff and a frame and mum helped me glue them together so that I can use it as a piece of artwork and as an earring stand! it looks great! I took a photo: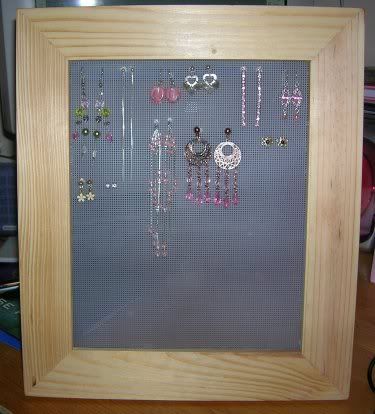 Anyway, tonight I rented Amelie and I'm watching it by myself for at least the 5th time. I love that movie. Anyway, night for now.
Love Rosie
0 comments
0 Comments: