Hey guys!! today was so weird.
I went shopping this morning and then went to get my nails done at a new place at randwick. They did them really nicely and I'm definately going back. I thought I'd get something different so they're really bright pink!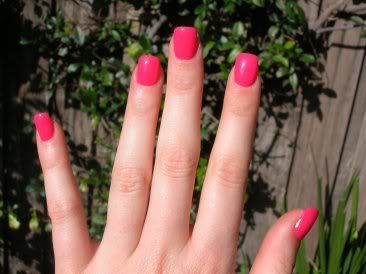 see?
Then mum came up and we had coffee and shopped for snacks because tomorrow I have a 3 hour class and they give you a break and I never have anything to eat, so I thought THIS week, I will have food. I got some packets of mixed fruit and nuts, sour roll-ups, and some pasta and sauce that I cooked today and put into little tiny plastic containers to take every day this week.
I feel so organised.
AND THEN! (and this is the funny part!!)
On sunday, Mimi and I went to a bridal expo because she is going to do some bridal makeup on me and some other people from school for her home salon, and I said I'd come so we could get ideas. When we got there, they asked which of us was getting married, and I stupidly said Mimi was. SO we had to keep up this foolish pretense of me being a bridesmaid etc etc. They gave us all this free stuff and tried to get us to enter a whole lot of competitions, and we were both giggling how funny it would be if we won the formal tuxedo fitting or anything since neither of us are getting married.
Well, I won something! (thank god not a suit fitting!) it's a $50 voucher that is redeemable when you hold a lingerie party with them. O.M.G! I have to organise a lingerie party now. And I feel really guilty because they think I should have a bridal shower for Mimi (who isn't getting married at the moment!) and I feel bad about not being truthful.
Anyway, I'll probably still have the party, but I'm not taking the pretense that far! LOL! it's just funny and I feel guilty now!
Anyway, apart from that I've been doing uni work pretty much for the rest of the day. I've lost my page that tells me what I need to do for tomorrow's classes though so I have no idea what's going on, which sucks.
Anyway, love and until next time!
Rosie
0 comments
0 Comments: