Today I got to spend a good bit of quality time with Sz - for the first time in ages. It's hard to see a lot of each other when I have 2 jobs - during the evening in the week, and during the day on the weekends, and Sz has 3 jobs - during the evening AND day during the week, and at night on the weekends, but we make time.
So, spending time alone is nice when we get to. I finished my first assignment for Human Geography - an article precis (summary!) of an article of the local-global. It has to be under 250 words and you have no idea how hard that is, because the article is about 6 pages long. I don't know if I've got the main points across but hopefully I did. It's worth 5% and is meant as an exercise in learning how to write for human geography so it's all for the good.
I also hired out Oklahoma!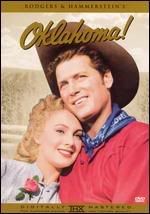 because I love that movie! I'm such a girl - I like movies which have sexual tension resolved with a happy ending! the best kind is when the couple hate each other on sight. Because then you KNOW they'll get together! (my favourite couple are Ano Annie and Will!)
*sigh*
Tomorrow is banana bread and coffee day at uni, and I have to get up early! so night night.
Love
Rosie
0 comments
0 Comments: