Hey girls!! (and guys, I suppose there must be some of you)
Last night was the biggest blast, we had a slumber party at Sarah's house. We ate copious amounts of thai food and drank far too much alcohol, including tequila and peach schnapps. We took heaps of photos and here they are for your viewing pleasure.
Not entirely sure how this works, they might ask you to sign in to see them, but then you can comment and whatnot, which will be fun, yes?
Okay then. click
right here
to have a look at our fewlish antics.
there is no telling what might happen when 4 hot girls, a bottle of alcohol and 2 mattresses get together... *wink*
In addition, it was my dad's birthday today! hurrah! so I got home from dropping off Sarah and Alison at central station and had scrambled eggs, called dad at work and then had a nap. In the arvo mum and I went for a walk down to Coogee beach and tried the new green tea boost juices, mine was with mango sorbet, hers was with pineapple juice and goodness knows what else. Hers was nicer I'll remember for next time!
We had dinner at home which was nice, just mum dad and I. We didn't have a cake and I thought that was kind of sad, I'd really like a cake if it was me, otherwise it's not really like a birthday!
He got some cool stuff, a couple of books, a laptop and a book voucher. Can't remember what other stuff.. I got him a bottle of wine and a bottle of lucky beer. I couldn't find a photo on the web so I took one: it's pretty cool! the bottle has a buddha on it! I had to have the light shining through so you could see.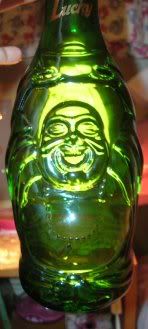 I wish you all a wonderful weekend. Now I'm going to go to bed with my glass of red wine, cup of water and new romance book.
Love
Rosie
3 comments
3 Comments:
Thank you!
[url=http://xkdcwzwq.com/xwmw/nozf.html]My homepage[/url] | [url=http://srzaqeql.com/stcg/nigw.html]Cool site[/url]
Thank you!
My homepage | Please visit
Great work!
http://xkdcwzwq.com/xwmw/nozf.html | http://pcuyrkqe.com/pvsp/epsw.html