Today was weird. I was kind of expecting to do something with my sister, because I haven't for a while. But instead Ben called me so I went to his house and we watched Monsters' Inc and had lunch at a Cafe near the beach. It was really nice food and I really love that movie!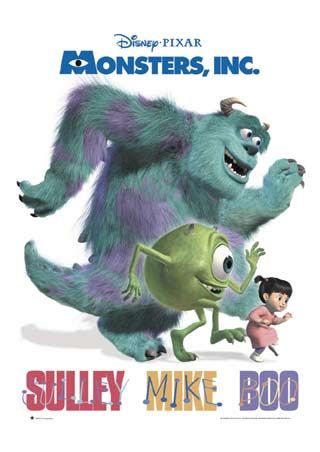 Boo is so cute! As per sunday I had dinner with Celia and Jasmine which was good, we tried to organise a few things:
November:
25th: finish my exams, going for celebratory pancakes with Alison! yay!
26th: Celebratory drinks with the uni girls and Celia's birthday piss up in the city/yumcha!
27th: Celia's birthday!
December is even worse, it goes christmas one week, new years the next, jasmine's birthday the following week and the next day I go to thailand for 10 days. OH MY GOD its sooo soon excitement! I just can't believe how jam packed those few weeks will be! its going to be a madhouse. I need to pre-organise stuff now!
we always agree we'll plan something for new years early, but we never do. We pretty much decided that we'd do something in the city and then go watch the sunrise on the beach with pina coladas! i know that it's an alcohol free zone but sue me, its newyears.
Somewhere in between now and thailand/phuket/swimsuit wearing I also plan to try and tone myself hardcore at the gym. I can't believe i get free membership and yet I never go. I guess it's not that I don't have time, its more like I have no one to go with, I'd really like someone to go to classes with me :(
Anyway, thats pretty much all. I'm working 11-2 tomorrow which is a good shift. I'm hoping I can either work out afterwards or go christmas shopping for my family maybe. I want to be organised this year. I have to get Celia a birthday present also.
Anyway, night night. More tomorrow arvo.
Love
Rosie
3 comments
3 Comments:
Nice site!
[url=http://kwtmraqn.com/xros/fuke.html]My homepage[/url] | [url=http://wymulrfn.com/lrsf/hfwo.html]Cool site[/url]
Great work!
My homepage | Please visit
Nice site!
http://kwtmraqn.com/xros/fuke.html | http://zhxfcfda.com/uefb/qjjx.html