there has been something wrong with my template for the last couple of days! so today I got a new one.. and fixed the commenting system as well. Phew.
I've been looking for a pink suitcase that I'll get as a christmas present to take to thailand but I haven't found one yet.
Omg, today was lots of fun, Alison and I went shopping and even though we didn't buy anything, we had so much fun! we tried on perfume in myer, hats and shoes in target, analysed the barbies and brat dollz and lay on top of all the soft toys and made friends with a 'littlest petshop' turtle and a Greg [yellow guy from the wiggles] doll. And we checked out the baby clothes section! size 00000 is SO CUTE!
Later I bought this blush: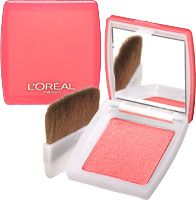 And that was my day. Alison Sarah and I also had coffee with Charlie, Alison's boyfriend. Looking back it was actually very social.
Anyway, I'm tired now so Night night!
0 comments
0 Comments: