Today mum and I went shopping for mini items to take away to Thailand with me!
we found a decent selection... I'll take photos and list them all later... I'm getting them for christmas so I'll leave the posting til then.
After we finished shopping, I got a Quicki juice. The Macquarie Uni store doesn't seem to sell these cute kid's sizes, so I took a photo. They're so cute!
I also watched Ocean's 11 today and changed my bedroom around. I have drawn a helpful pink diagram using only windows paint for your viewing pleasure!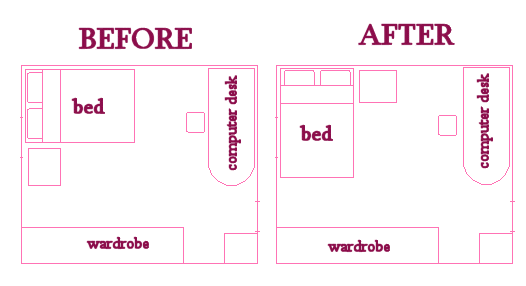 It took a little while but it looks like I have more space when you look in. Sometimes its good to have a bit of a change! (Im sure it gets rid of stagnant energy or whatever that moving furniture does according to Feng Shui!)
Anyway I'm still trying to fix blogger comments! if anyone knows how to get them to work... send me an email! (pinksugaris at hotmail dot com!)
Love
Rosie
0 comments
0 Comments: