Phew. Finally got my internet back. The carpet looks good! I took a photo for you!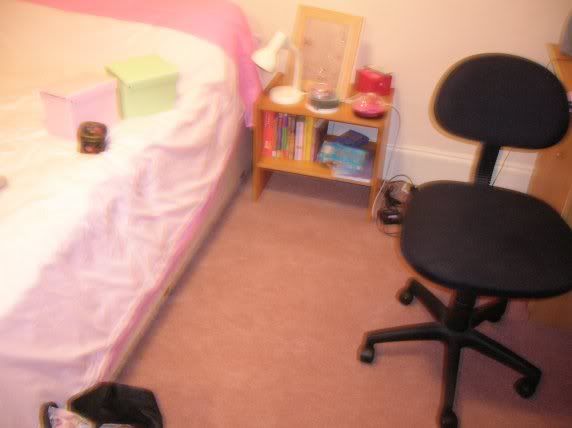 I couldn't take a non-blurry photo that showed the carpet the right colour.. it'd either look too dark or too pale.
Anyway!! I put up photos of Charlie's uber cool Christmas party on my photo blog. We had so much fun, playing table tennis, drinking westcoast and having D & M's!
Charlie organised for everyone to bring a present worth $5 or less and you got to lucky dip for one. My present was cool! it was a metal puzzle (where you have to get a metal ring free) and a pair of antlers with bells on, which were v. festive. I accidentally left them at Charlie's though.
I spent the second half of the night on a recliner chair with Charlie's gorgeous cat Jill half asleep on my lap. She slept on my pillow and snuggled up against me all night, so she has some photos on my photo blog too. She was the cutest thing ever!
The next day Alison and Charlie caught the train back to the city with me and we got lunch with Ben at a pub.
Then, I got a bus home so I could grab some forms to apply for my visa card and went BACK to the city to go to work, where I faxed the forms. Today was even MORE busy! OMG.
I drove mum and dad to his work Christmas party down at brighton le sands. Then I drove to Uni to pick up my travel grant cheque. Then I went over to Mac center to bank the cheque and go Christmas shopping!
I bought Celia and Jasmine's christmas present and had lunch in the car. Then I stopped off on the way home to buy Anna's present. Mum called and asked me to pick them up from the party which I did. Then I had a nap. I actually came on here to do some more work on my Thailand assignment... I'm pretty much working from now until Thailand every day, so I want to make sure I'm not rushed in getting it done!
so anyway, I'm off now to find some shoes to wear, I'm going out to dinner tonight.
Love
Rosie
0 comments
0 Comments: