And christmas is here once again. As per usual, I'm going to write my extensive 'presents recieved' list. And, I have posted photos on my photo blog! hurrah!
We got up and opened our presents in the morning, had breakfast and then went for a picnic in the park. There was cheese, bread, sparkling non alcoholic wine and various pastes and pattes that I didn't have any of. There was also Christmas cake. Afterwards we played some throwing and catching games with a frisbee and a ball.
We've only just come back and I've spent ages taking photos of all my presents to illustrate my list!
But before I do that... last night the girls and I went to dinner and exchanged presents. Jasmine got one of hers early and so after dinner we went back to her house to have a look at it - a baby, lop earred bunny! OMG the cuteness was unbearable and I so I took LOADS of photos of him (or her, they don't know yet). We also helped Jasmine wrap presents and ate choc-mint icecream. Celia and I walked home around 1 am - I think we got carried away talking and wrapping and whatnot!
Anyway. Here is the annual LIST!
From Jane (Mum's Friend)

Some frangipani and jasmine shimmering bath and shower cream (It smells gorgeous, and when you wash with it, you come out with a 'glow' from the shimmer stuff!)

Evening bag made out of pink Chinese patterned silky material
From my Grandmother

A cheque

A watch & bracelet set

rose scented soap flowers that open when you put them in the bath
From my Sister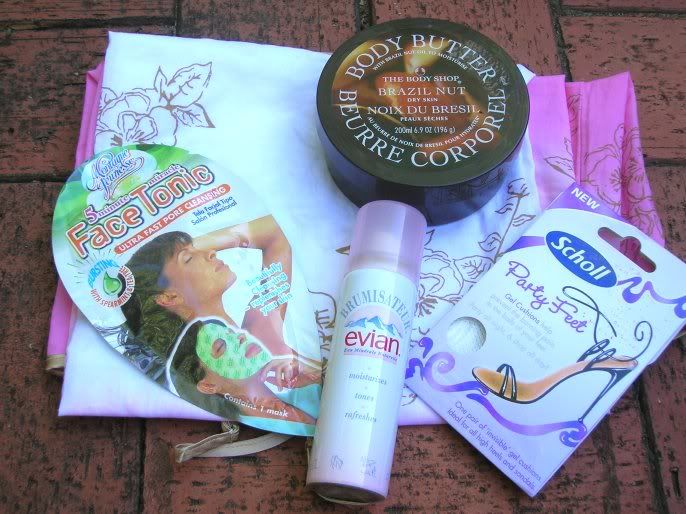 A nightie that is gradient dark pink to white from bottom to top

A facial Mask cloth

Evian facial mister (for the flight to Thailand)

Body Shop Brazil Nut Body Butter (I LOVE LOVE LOVE the scent of this stuff)

Party Feet squishy pads to use in uncomfotable shoes (I needed a new pair)
From Celia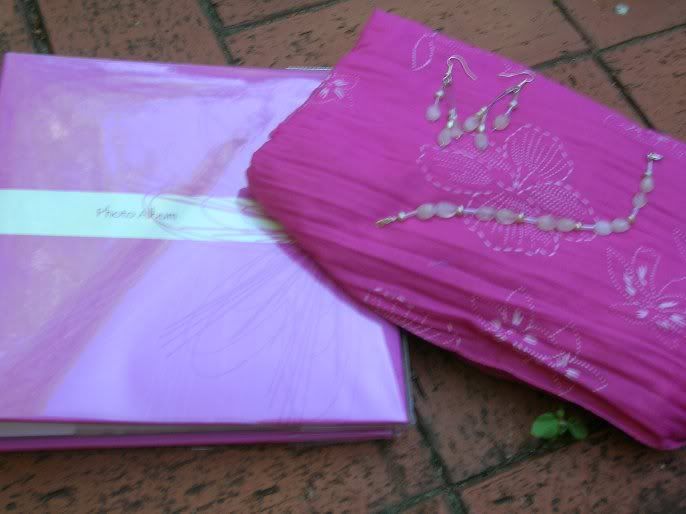 A gorgeous dark pink sarong with white flowers embroidered all over it

earrings and a bracelet that she made out of pink seed pearls and rose quartz beads (rose quartz is for love and pearls are my birthstone!)

A pink photo albumn in which to cram all my photos from Thailand. (I was actually thinking of buying one myself so I'm glad I didn't now!)
From Jasmine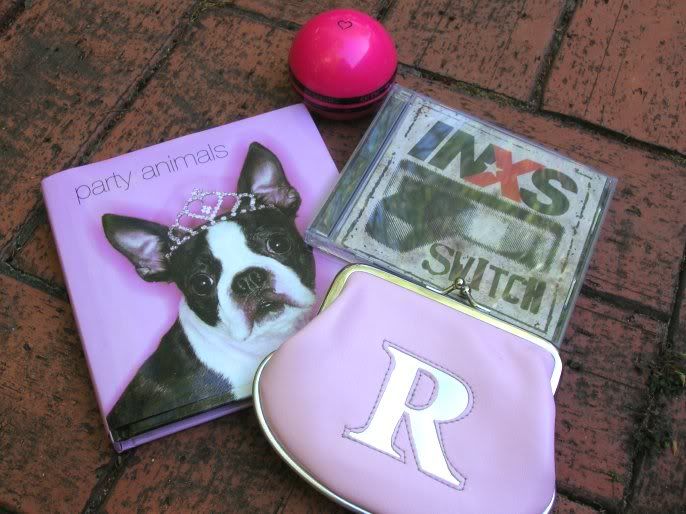 A pink retro shaped purse/bag with a silver R on it

Chi Chi 'pamper me pink' glistening shimmer dust (which smells gorgeous and looks so pretty on!

A book called party animals with lots of cute animal photos and quotes in it.

and From her Dad, Don, an INXS CD which will be musical discovery for me since I've never really listened to their stuff before.
From Mum and Dad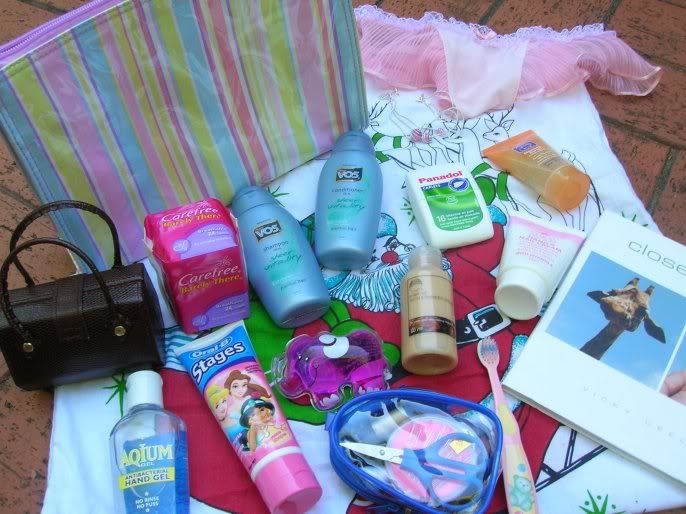 A massive pink suitcase and matching hand luggage for Thailand and beyond! SQUEAL! (they forgot to bring it down from the attic though so I didn't get to see it today :( )

A striped toiletries bag with loads of individually wrapped things in it (list below!)

new toothbrush (pink)

Pink Bubblegum flavoured Disney Princess Toothpaste (hey, if you have to brush, do it with toothpaste that comes out of the tube in a CROWN SHAPE baby! yeah!)

hand cream

Body Shop Brazil Nut shower cream

Carefree Barely There scented liners (they not only smell good, they're the cutest tiniest thing you've ever seen! all girls should use them!)

Snazzily packaged panadol caplets!

Clean and Clear Morning burst facial scrub in the 28g size!

Aquium gel (A no-water antibacterial handwash for Thailand - we were recommended to buy it!)

VO5 travel sized conditioner and shampoo (you may notice a recurring theme. I LOVE miniature products!)

A frilly, pink g-string (mum gets my sister and I raunchy underwear every christmas)

costume jewellery bracelet from Diva with pink cat-eye beads on it

A selection of chocolates in a tiny brown crocodile skin patterned handbag

A book called 'Close Friends' that has photos of baby animals and human babies that look similar (e.g wrinkly baby bottom and wrinkly elephant bottom!) Its very sweet.

A sewing kit, 'just in case' for Thailand

A sample sized perfume atomiser.

new Body Shop strawberry lipgloss

pink squidgy elephant full of showergel!

silver Celtic style bracelet
Anyway, there is still the traditional Christmas dinner with turkey and pudding to go, and then the treasure hunt with a gift at the end! and maybe some more photos too! I hope you all had a very Merry Christmas and got as many lovely gifts as I did!
Love
Rosie
0 comments
0 Comments: