Monday. It's become my 'baking' slash cupcake day. Today I made raspberry and coconut cakes with cream cheese frosting. Yum. I've taken a photo of them as per last week: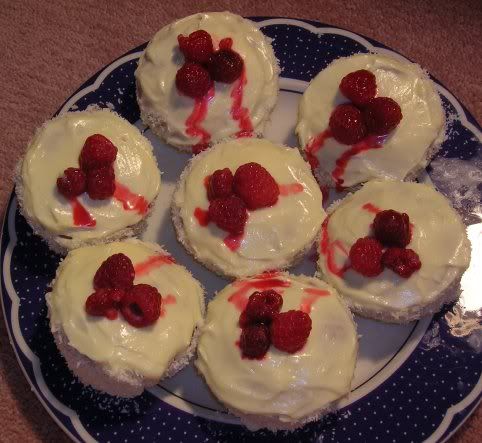 what else did I do? mum and I went grocery shopping which took a really long time because we were in a different store. I watched 'Howl's moving castle' in between baking and covering the kitchen in desicated coconut. I had a really busy weekend so it was nice to relax.
On friday I went to work, ran up to see Sarah and buy clarins stuff as well as be loaded down with samples for Anna to take to the Greek Islands with her (what a skank! I wish so much I was in the Greek Islands right now!) She also gave me a relaxing hand and arm treatment before I had to dash back to randwick to see Jasmine and her 2 month old god daughter Kyarna. My god. She is the cutest thing ever. No picture could do her justice, but I took some anyway!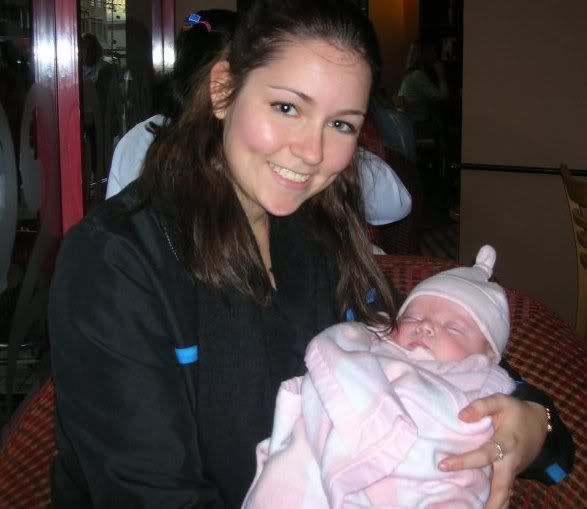 We realised that in the hurry to get Kyarna ready the baby bag didn't have a change of clothes, so when she wet the ones she had, Jasmine had to dash upstairs to best n less to buy some new ones. Like most babies Ky really really hated being undressed and she especially disliked being re-wrapped in the blanket and left with a stranger in the parents' room while jasmine was away. So I was left holding a crying 2 month old baby. I really don't know much about babies at all so I was so proud of myself that I managed to rock her to sleep within a few seconds. She was SO CUTE! she fell asleep holding onto my hair and she wasn't very happy to be woken up so we could dress her again and make her let go of my hair either. After I said goodbye to Jasmine I had coffee with Celia and we organised to meet up at 8pm after dinner.
We went out and 2 cups of skim caramel machiatto with extra caramel drizzle and a few sips of chai we felt ready to face the ellusive Paul of last weekend's dating madness. I was so nervous that he would turn out to be 'deargodwhatwasithinking' unattractive but he was actually quite good looking, even though he isn't at all what I would normally go for.
We had a good time and danced and stuff and he asked if we could go for lunch on sunday, which didn't end up eventuating since one of his family members was hospitalised. ANYWAY.
Saturday I had the loooongest feeling shift at work. I was really hungover and I spent the whole day playing word games on ninemsn with the new guy. After work I met Anna at Bondi to have steak because I knew I would miss her when she was away. When we got home I went straight to sleep since I got home at 3:30am, went to work at 8am and was feeling like crap. In the evening I had to take Anna to the airport to see her off on her way to the Greek Islands as I mentioned before. (BIATCH!) Mum, Dad and I got home and had a really late dinner and I went pretty much straight to bed. I slept pretty much all of sunday and by the evening I felt like steak again, so the girls and I went to the Hogsbreath cafe in bondi for steak and whatnot, which was totally delicious. Mmmm blackened steak, avacado, curly fries...
It was a really long and tiring weekend. Hopefully I will get to see my uni girls sometime this week, we're going to try to meet up for drinks or lunch sometime during the week. Other than that, I might go and enjoy my cupcakes with a cup o' tea!
ta ta darlings
Rosie
Labels: anna, babies, baking, drinking, shopping, steak, work
0 comments
0 Comments: