At this point I can honestly say I am looking forward to the day where I can work 9 to 5 at one job, and have TWO (TWO!!!) weekend days free, as well as weekday evenings to do whatever I want. Right now, I am trying to juggle 20 hours casual work a week as well as 4 uni assignments (totalling about a 10 000 prospective wordcount) A killer boss (he's changed the roster 3 times since last friday) AND bootcamp. And, the ever growing pile of washing and things that I know I'll have to deal with sooner or later, as well as the fact that I was sick for the 2 week uni mid semester so I couldn't get any work done.
I can't cope. I went into the office yesterday morning and said I will quit if he can't reduce my hours. And he'd be screwed if I did since he hasn't got anyone else and as a casual I don't have to give him any notice at all. I'm usually really good about work but I am on the point of burnout, and I couldn't possibly have done the hours he was asking for.
On a cheerful note, I went over to Aaron's house the other day and we made dinner together and watched a movie and oh god it was so relaxing. I never wanted to come back to the real world. He picked me some roses and I took a photo of them. They smell gorgeous: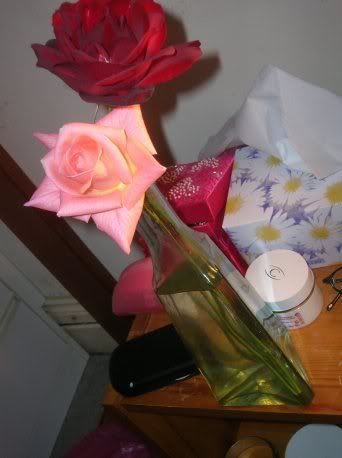 And then one of my favourite blogs,
VeryPink
put this funny celebrity face recognition thing up. What you do is you upload a photo and it tells you what celebrities you look like. As you can see, I'm not sure that it's that good, haha.
Anyway. I'm about 8000 words short of my goal word count for all these assignments, so that's it from me. Love lots
Rosie
0 comments
0 Comments: