I had such a good weekend.
On friday, Aaron and I went to DFO to buy a big fat winter puffy jacket from Giordano. We didn't get one there but we found one at Macquarie instead, where I had to pay a fee at uni anyway. Then in the evening we saw harry potter, AND I lost my drive-in virginity, since I've never been to a drive in before! It was heaps of fun. The movie itself was good, but out of all the books so far, I really disliked this one, so there were some parts of the movie which I wished I could fast forward.
On saturday I played with willum and then I went over to Aaron's house and we went out to an italian restaurant called Don Lorenzo's for his birthday dinner. The pasta was awesome and his family was there, I had a really nice time.
On sunday, I wasn't working so I met Aaron and we did something that I cant remember and then went to dinner with Janna and Jasmine. Celia was sick so she stayed at home. I gave janna her birthday present and we had steak and garlic butter and chatted. Then I drove Aaron home and stayed at his house. He's a sweetheart, he let me stay in his bed and he was going to take the spare room, but he said he didn't like it down there all alone so he came up and slept on the floor! funny boy.
On Monday it was Aaron's birthday! we had a really relaxing day just chilling, we went to the shopping center and browsed, ate lunch at a little park in ingleburn in the sun and looked at property prices.
Then we had a big family dinner that his mum cooked - he invited his best friend Chris and his girlfriend Kaylene to come as well, so there was Aaron, me, his mum and dad, his brother daniel and chris and Kaylene. Chris lives at the other end of Aaron's street so they just popped over.
Then Aaron and his brother played some silly game with balloons and Aaron hit his head on a bedpost and got a big lump on his head, poor creature. We put ice on it and the swelling was down a lot this morning.
Last night he stayed at my house for a change and we used his electric blanket that he gave me. It was so nice and cozy, in fact, with our own body heat we actually got too hot! we watched she's the man on dvd and played with willum.
Then, today we went into the city and aaron tried to win me this big fat toy from capitol square that we've been trying to get for quite some time. It's a japanese toy, and I'm pretty sure it's suposed to be a plush cube of tofu. It took us a while, and quite a lot of effort, but we got it in the end! yay! Mine is the pink one: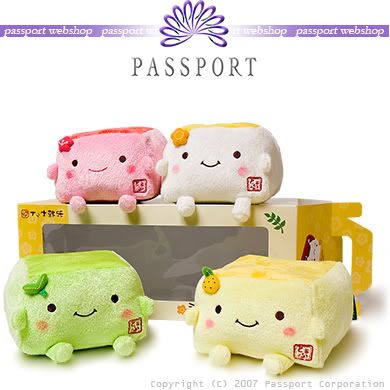 Then we had chinese for lunch at market city and then starbucks. Aaron went home on the train and I bought another pair of shoes that I'm sure aaron would grumble over if I'd told him, LOL. I met up with mum in randwick afterward and we had tea together. When I got home I snuggled with willum. He was freeezing - it's the coldest day on record for the last 20 years today, and his ears were so cold! poor little baby. I'm going to put extra layers of blankets on his cage tonight.
Anyway, that's it for me, jeebus this is super long!
Love
Rosie
Labels: aaron, birthdays, boyfriends, pets, shopping, starbucks, steak, virginities, willum